Xiao-I Participates in 19th Call Center Industry Development Annual Conference
From August 24th to 26th, 2023, the 19th Call Center Industry Development Annual Conference and Annual Award Ceremony were held in Datong City, Shanxi Province. Xiao-I was invited to participate in the Conference and won the Top 10 Contact Center Application Technology Award. Mr. Ou Guangxin, Senior Director of Xiao-I, has given a wonderful presentation at the meeting, introducing the exploration of intelligent contact center applications based on the Hua Zang foundation model.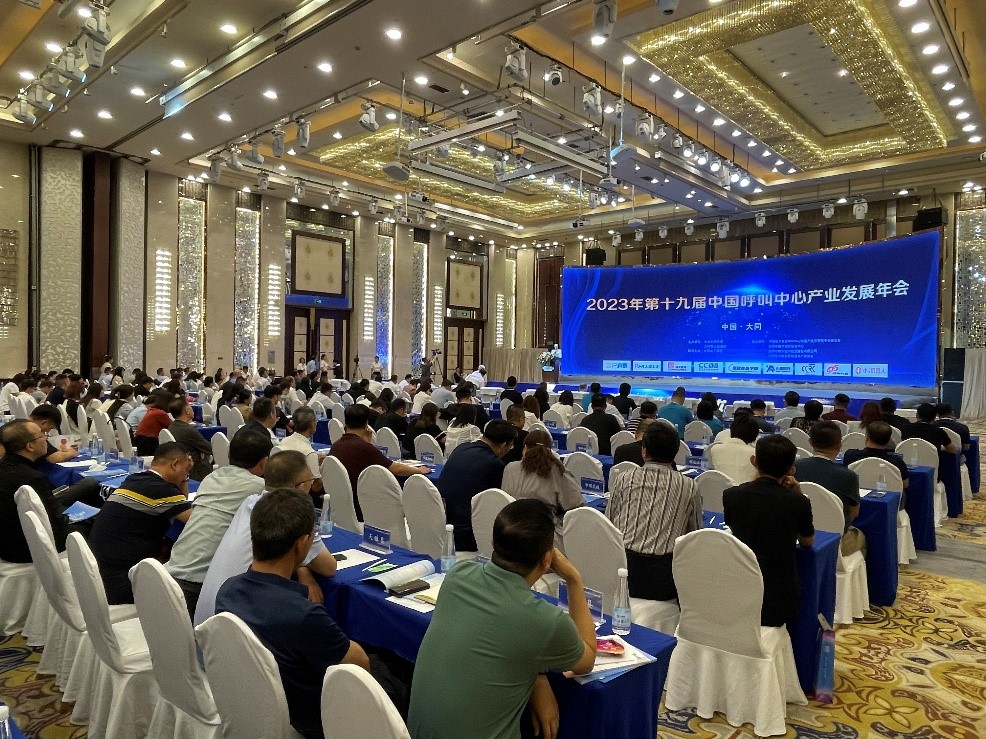 2023 The 19th Call Center Industry Development Annual Conference
The conference was organized by the China Call-Center and Customer Relationship Management Association (CNCCA), with the theme of "Digital Transformation and Intelligent Technology Application in the Contact Center Industry." Mr. Ou stated that Xiao-I has delved into the realm of cognitive commercialization and been deeply immersed in cognitive intelligence for more than 20 years. This has enabled Xiao-I to provide rich and high-quality intelligent products, alongside supportive intelligent services and operational tools for contact centers.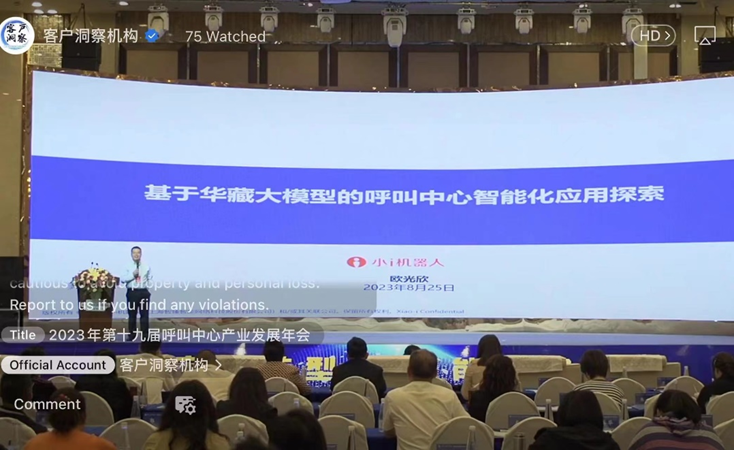 Online synchronous live broadcast
Mr. Ou presented a detailed technical introduction on Xiao-I Hua Zang from the application layer, core function layer and data layer, and vividly highlighted the features of Xiao-I Hua Zang – being "controllable, customizable and deliverable". Furthermore, he outlined model training processes, training methods and the management platform of Xiao-I Hua Zang. Besides, Mr. Ou also pointed out that "Xiao-I Hua Zang is capable of empowering businesses, with rich tools and improved operational efficiency."
For example, using foundation models to automatically generate similar questions can greatly improve the efficiency of robot operation and maintenance, shorten the online cycle and respond in a timely manner. In terms of reading comprehension, foundation models can perform knowledge searches, vector search of all kinds of documents in the library and give business-related answers with references.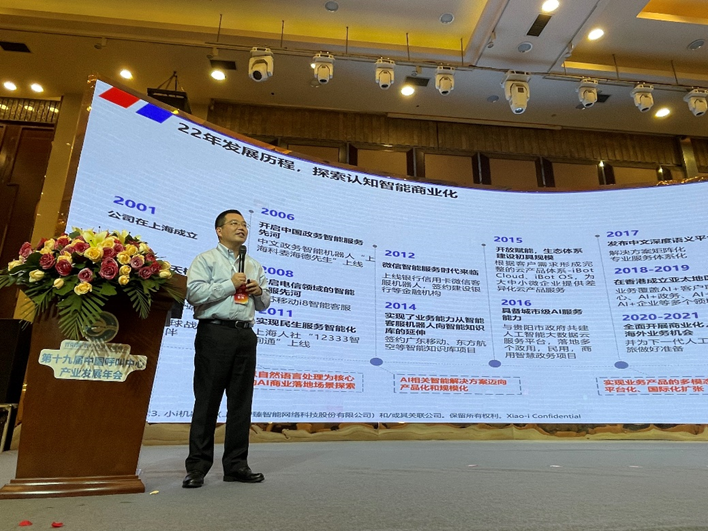 Mr. Ou introducing Xiao-I's history on Cognitive Commercialization
Regarding document splitting, foundation models are first used to divide them into questions and answers These are then reviewed and confirmed by humans before being compiled into a knowledge base. Compared with the traditional knowledge management modes, this approach enhances the efficiency of collection and editing.
Xiao-I will continue to invest in innovation, empower industry application scenarios with foundation models, promote the transformation and upgrading from traditional contact centers to new generation ones and then reshape the digital intelligence landscape across thousands of industries.