Intelligent Knowledge Management
Intelligent Knowledge Base For the Entire Industry
Multi-model Knowledge Management
Support intelligent and unified maintenance of five knowledge models, including Q&A, documents, articles, scenarios, and information forms, and manage human-computer shared knowledge from multi-applications, multi-scenarios, and multi-channels.
Intelligent Knowledge Operation
Adopt a variety of internally-developed AI technologies to realize intelligent knowledge operations, which support automatic classification, duplicate checking, recommendation of business knowledge and labeling. Realize automatic FAQ splitting and knowledge graphs building relying on long text analysis technologies.
Efficient Process Approval
Support custom configuration of process nodes and automatically generate track changes for each audit node. A complete knowledge review process to fully ensure the correctness and standardization of knowledge.
Combinatorial and Intelligent Search
Use combinatorial search engine based on NLP + full-text retrieval to realize accurate, efficient and comprehensive knowledge search. Integrate ASR, TTS, OCR technologies to support voice search and multimedia search.
Intelligent Knowledge Recommendation
Realize guided search and related knowledge recommendation based on user behavior analysis and event tracking, and text semantic analysis technology.
Multi-model Knowledge Display
Support online preview of multi-model knowledge such as atomized Q&A, encyclopedia articles, scenario processes, information forms, Office documents, multimedia files, etc.
Multi-scenario Application Tools
Incorporate application tools such as business comparison, information filtering, version comparison, download and push, graph display, and related knowledge to meet the needs of customers, customer service, marketing, after-sales services and other multi-scenario knowledge applications.
Multi-channel Knowledge Push
Embrace multi-dimensional management, label system, enterprise-level permissions, and support knowledge push through ways of internal users, intelligent office, knowledge portal, intelligent self-service and other channels.
NO.1
Higher efficiency for knowledge operation and maintenance
Create knowledge system quickly through one-click knowledge import, automatic splitting and text analysis!
NO.2
Standard and Unified Knowledge System
Multi-model, multi-channel and multi-scenario knowledge with single-point maintenance and multipoint release!
NO.3
Accurate and Comprehensive Problem Inquiry
Get your answer with a click via intelligent search, global coverage, and personalized recommendation!
NO.4
Quick and Easy Knowledge Push
Get customer data easily through secure download, one-click copy and channel push!
NO.5
Convenient and Efficient Knowledge Collaboration
Solve your problems immediately by means of topic release, expert community, and feedback!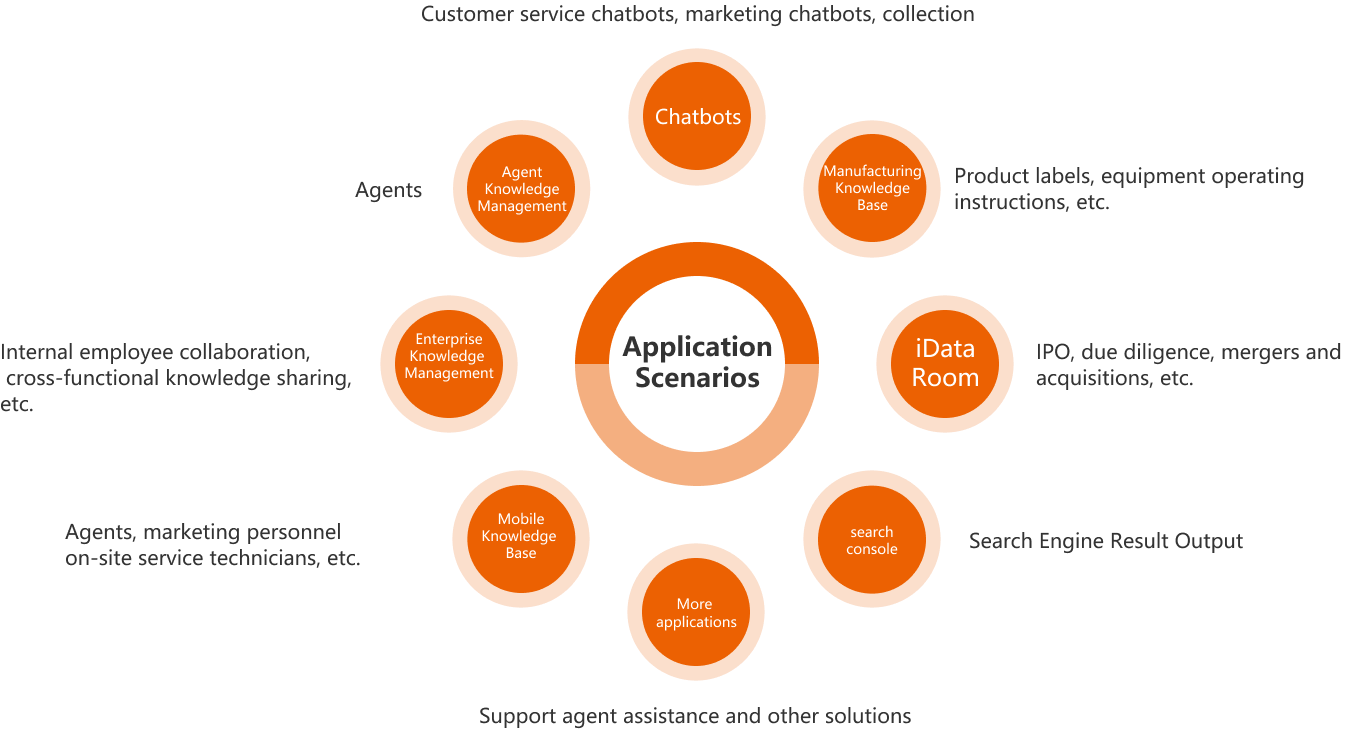 Agent Knowledge Management
Enterprise Knowledge Management
iDataRoom
Agent Knowledge Management
Agent Knowledge Management provides customer service specialists and online agents with accurate and efficient knowledge retrieval services, various knowledge application tools, and real-time, interactive and intelligent knowledge self-service query services through electronic channels.
Application Scenarios
Mobile terminal for user self-service